Request a call back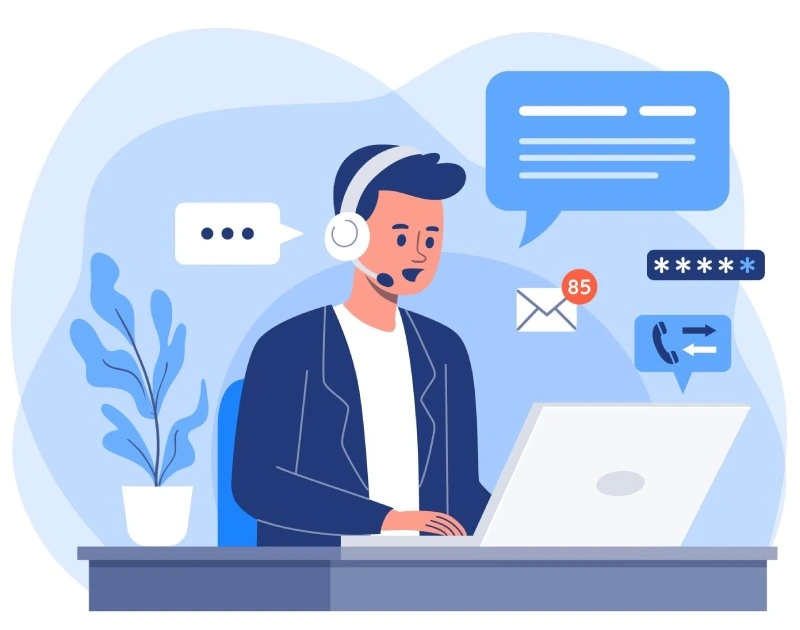 Thank you for your interest in Expand smERP. A product expert will call you within 48 hours, maybe sooner. If it is important please feel free to call Ritisha on +91 9007026542.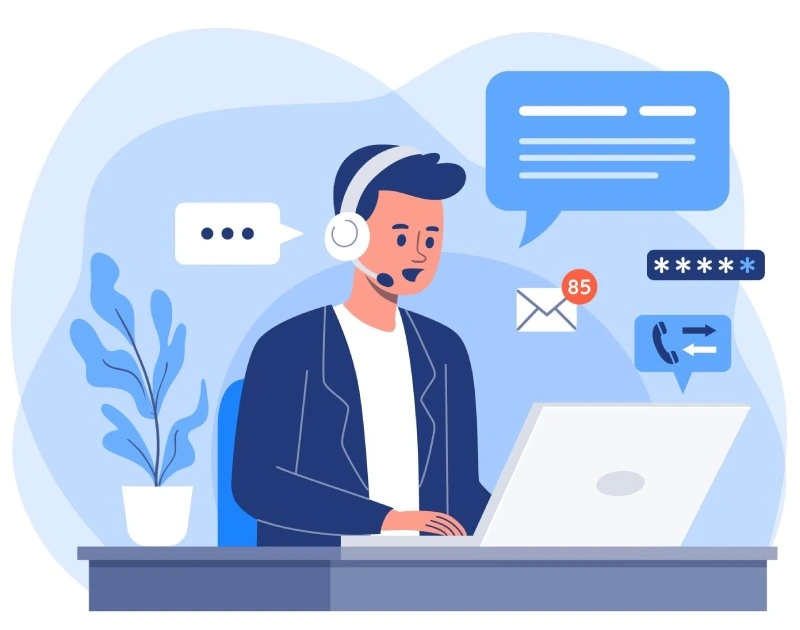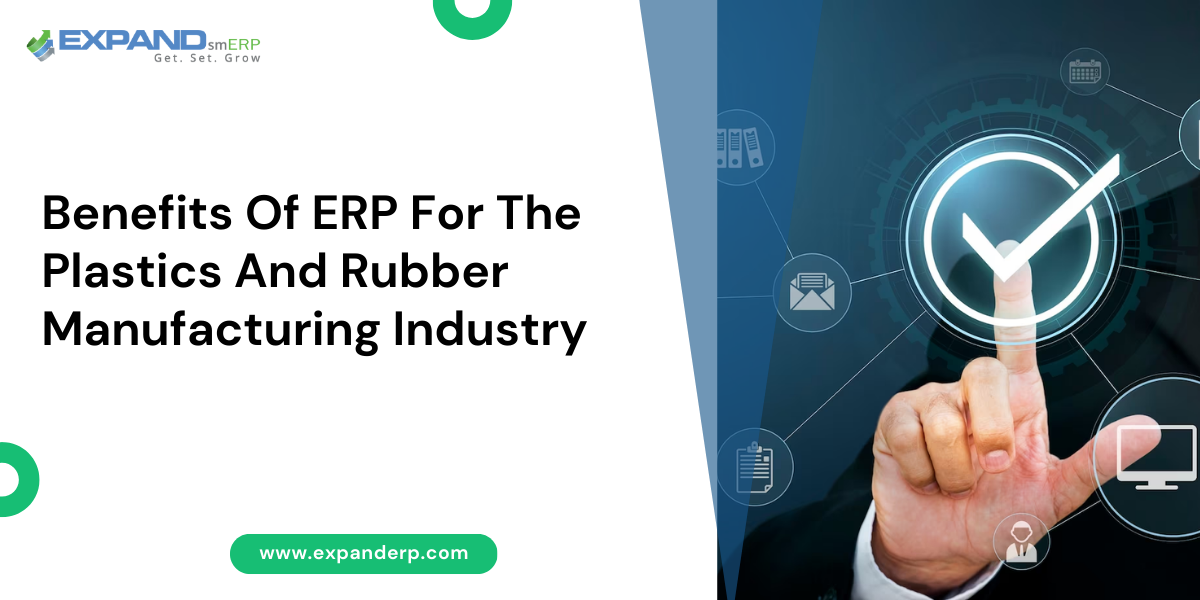 Benefits Of ERP For The Plastics And Rubber Manufacturing Industry
​
In the dynamic and competitive manufacturing world, businesses seek ways to optimize their operations and stay ahead of the curve. In this situation, the plastics and rubber manufacturing industry faces unique challenges. Which includes complex supply chains, stringent quality control requirements, and others. To overcome these hurdles and drive sustainable growth, many companies are turning to Enterprise Resource Planning systems.
ERP software in Kolkata has proven to be a game-changer for many industries. The plastics and rubber manufacturing sector is no exception. With its ability to integrate and streamline core business processes, ERP solutions offer a comprehensive approach. To manage operations, enhance productivity, and achieve strategic goals.
In this blog, we will delve into the specific benefits of the best ERP software in India for the plastics and rubber manufacturing industry. Shedding light on how it transforms businesses in this evolving landscape.
1.Enhanced Operational Efficiency
ERP provides a comprehensive platform that integrates various business functions. Which includes inventory management, production planning, scheduling, and quality control. By centralizing data and automating processes, ERP for manufacturing industry eliminates redundant tasks, minimizes manual errors, and optimizes resource use. This results in streamlined operations, improved productivity, and reduced lead times. It also allows manufacturers to meet customer demands more.
Read More- Top 21 Benefits Of ERP Software In Textile Industry
2. Real-time Inventory Management
Inventory management is crucial for plastics and rubber manufacturers. As they need to maintain an optimal level of raw materials, components, and finished goods. Plastic manufacturing ERP software provides real-time visibility. Like inventory levels, allowing manufacturers to track stock movements. It also check consumption patterns, and expect demand fluctuations. With accurate inventory data at fingertips, manufacturers can cut stockouts, and reduce excess inventory.
Read More- How Do ERP Systems Streamline Business Processes?
3. Effective Benefits of ERP In Supply Chain Management
Plastics and rubber manufacturers often have complex supply chains. It involves many suppliers, distributors, and partners. ERP systems enable seamless collaboration and information exchange. It includes across the entire supply chain network. From supplier management and procurement to order fulfillment and logistics, ERP streamlines processes. It facilitates better communication, and enhances coordination. This leads to improved supply chain visibility.
4. Compliance with Regulatory Standards
Compliance with regulatory standards, such as safety regulations. And environmental mandates are critical for the ERP plastic industry. Plastic manufacturing software ensures adherence to these standards. By providing functionalities to track and manage compliance-related data. This includes maintaining detailed records, generating accurate reports, and automating compliance workflows. By managing compliance, manufacturers can avoid penalties. Also mitigate risks, and build a reputation for environmental responsibility.
5. Integrated Quality Management
Maintaining high product quality is paramount for plastics and rubber manufacturers. Because meeting customer expectations and industry standards is important. ERP for plastic manufacturing offers robust quality management modules. It enables companies to install standardized quality control processes. Across the entire production cycle. ERP helps in inspection and testing to non-conformance management and corrective actions . ERP helps identify and resolve quality issues. It also lead to improved product consistency and customer satisfaction.
6. Data-driven Decision Making
ERP benefits for manufacturing can access comprehensive, real-time data about their operations. This data can be analyzed. By using powerful reporting and analytics tools integrated into the ERP software. By leveraging accurate and up-to-date information, decision-makers can gain insights into various aspects of the business. Such as production performance, cost analysis, sales trends, and customer preferences. Data-driven decision-making allows manufacturers to identify opportunities. It make informed strategic choices, and optimize operations for sustainable growth.
7. Scalability and Flexibility
This manufacturing industry is dynamic, with evolving customer demands and market trends. ERP systems offer scalability and flexibility to adapt to changing business requirements. It is another benefit of ERP software. As companies expand they get new facilities, or diversify their product lines. ERP software can accommodate the changing needs. This scalability ensures that the ERP system remains a valuable asset. They can support the company's growth and enable efficient operations at any stage.
8. Streamlined Production Planning and Scheduling
ERP systems enable effective production planning and scheduling. By considering many manufacturing available resources, machine capacity, and delivery deadlines. Manufacturers can create realistic production plans, divide resources, and check progress in real-time. This leads to improved production throughput. It reduced cycle times, and better on-time delivery performance.
9. Improved Customer Relationship Management (CRM)
ERP systems often include CRM modules. It enables manufacturers to manage customer interactions, sales leads, and service requests. Businesses can enhance customer satisfaction, personalize communications. It also track sales pipelines, and improve after-sales support. Effective CRM capabilities foster stronger customer relationships, repeat business, and increased customer loyalty. It is another essential benefit of the ERP system.
Implementing an ERP system in this manufacturing industry offers many benefits and advantages. One of the primary advantages of ERP is the ability to centralize and merge data from different departments and processes. This provides a comprehensive view of the entire manufacturing operation. Also facilitating better coordination and communication among teams. With real-time access to accurate and up-to-date information, managers can make informed decisions. It leads to improved efficiency and reduced lead times.
ERP systems offer many benefits for the plastics and rubber manufacturing industry. ERP software empowers manufacturers to achieve operational excellence, reduce costs, and drive growth. Embracing ERP technology can transform the way businesses operate in this dynamic. Also, competitive industry, positioning them for success in the long run.
Frequently Asked Question
1.
How can ERP software benefit the plastics and rubber manufacturing industry?
ERP software streamlines operations, improves inventory management, enhances production planning, facilitates accurate demand forecasting, and enables real-time data analysis, leading to increased efficiency and cost savings.
2.
Can ERP systems help in managing complex supply chains within the plastics and rubber manufacturing industry?
Absolutely! ERP systems provide end-to-end visibility across the supply chain, enabling manufacturers to track raw materials, monitor production progress, optimize scheduling, and enhance collaboration with suppliers, distributors, and customers.
3.
Can quality control processes be integrated into an ERP system for plastics and rubber manufacturing?
Yes, ERP systems allow seamless integration of quality control processes. Manufacturers can define and enforce quality standards, perform inspections, record test results, and track non-conformances, ensuring consistent product quality and compliance with industry regulations.
4.
How can ERP software improve traceability in the plastics and rubber manufacturing industry?
ERP systems provide comprehensive traceability by capturing data throughout the production lifecycle, including batch and lot numbers, raw material sources, production dates, and distribution details. This enables quick identification and recall of faulty products, enhancing safety and customer satisfaction.
5.
Can ERP software enhance decision-making for plastics and rubber manufacturers?
Yes, ERP software offers real-time data analytics and reporting capabilities, empowering manufacturers to make data-driven decisions. By providing insights into production costs, inventory levels, customer preferences, and market trends, ERP systems facilitate strategic planning and help drive business growth.