Request a call back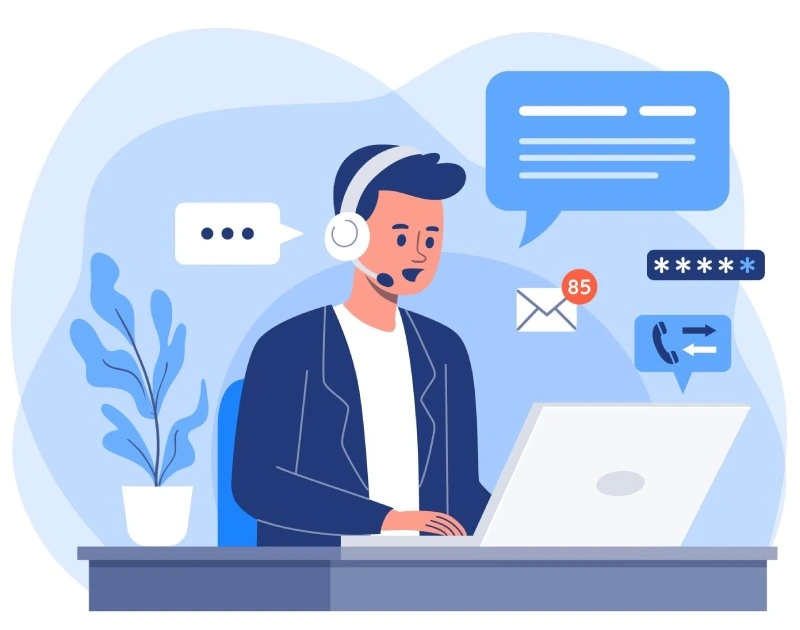 Thank you for your interest in Expand smERP. A product expert will call you within 48 hours, maybe sooner. If it is important please feel free to call Ritisha on +91 9007026542.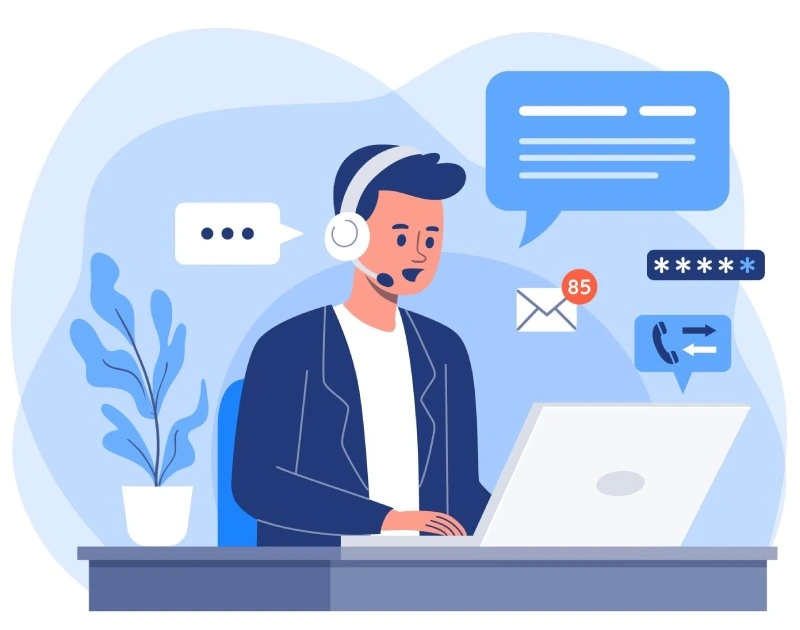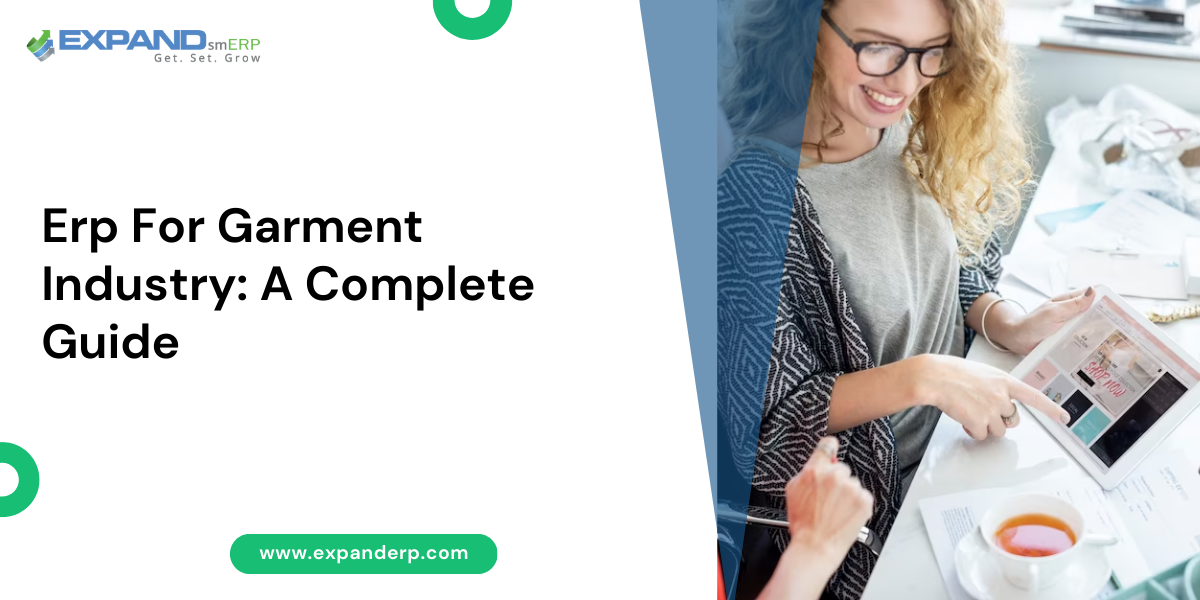 A Complete Guide For Erp For Garment Industry
​
In today's highly competitive garment manufacturing industry, successful operations management and seamless departmental coordination are essential. Here's where ERP for the garment industry comes to streamline the whole process.

Software called Enterprise Resource Planning (ERP) has changed the way garment companies manage their processes and changed the game. Before we dive into today's topic, we suggest you visit our website https://www.expanderp.com/ to avail yourself of the best ERP software in India. Not only the ERP for manufacturing industry but the ERP for production are also offered under our portal.
Insights into ERP for the garment industry, its advantages, and the best ERP software solutions available in India will be provided in this comprehensive guide.
What does ERP for the Garment Industry Mean?
ERP, which stands for enterprise resource planning, is a robust software system that manages and integrates essential business functions across all of a garment manufacturing company's departments.
It streamlines processes, automates routine tasks, automates routine tasks, and provides accurate insights for informed decision-making in real-time.
How Can ERP for Garment Manufacturing Help a Clothing Business?
There are numerous ways by which ERP software for garment manufacturing companies in India can help an apparel brand.
Effective Management of the Supply Chain
With the ERP system for the garment industry, suppliers, manufacturers, and distributors can work together seamlessly to get raw materials and finished goods delivered on time.
Management of the Inventory
Garment manufacturers can use ERP for the garment industry to accurately track and manage inventory levels, optimize stock levels, and lessen the likelihood of stockouts or overstocking.
Control and Planning of Production
ERP programming helps with arranging creation plans, improving asset designation, and guaranteeing on-time conveyance of orders. It makes it possible to better monitor and control production by providing visibility into its status in real-time.
Control of Costs
The garment-manufacturing ERP systems provide a comprehensive cost analysis, assisting garment manufacturers in identifying cost-saving opportunities, reducing waste, and increasing profitability overall.
Quality Control
By integrating quality control processes, tracking defects, and facilitating corrective actions, the ERP system for the garment industry assists in maintaining stringent quality standards.
Management of Sales and Relationships with Customers
By facilitating effective order management, accurate billing, and customer relationship management (CRM) tools, ERP software increases customer satisfaction.
What Does the Garment Industry Need from ERP?
Complex operations, numerous stakeholders, and rapid market changes characterize the garment industry. ERP programming tends to these difficulties by:
ERP for the garment industry improves operational efficiency by eliminating manual, time-consuming tasks and optimizing processes, thereby reducing errors.
The best ERP for the garment industry makes it easy for departments to communicate and work together, resulting in a streamlined workflow and prompt decision-making.
Data Insights in Real Time
The ERP software for garment manufacturing companies in India makes it possible to make decisions based on data and respond quickly to market demands by providing accurate and up-to-date information on sales, production, inventory, and finances.
ERP systems can scale to accommodate increased volumes, additional product lines, and expanding operations as garment companies diversify and grow.
Why is Expand smERP the Best for the Garment Industry?
Due to its extensive features, functionalities tailored to the garment industry, and demonstrated track record, Expand smERP is the most popular choice for the sector. Expand smERP is the best ERP software for the garment industry for the following top reasons:
First, all aspects of garment production and distribution are covered by Expand smERP's end-to-end integration. Expand smERP facilitates the efficient and accurate flow of information between departments by managing raw material procurement, inventory control, and streamlining production planning and monitoring.
Second, Expand smERP was developed with the garment industry's specific needs in mind. Style management, a color and size matrix, product costing, production tracking, and order management are all included. Manufacturers of clothing can improve overall productivity, reduce lead times, and optimize their operations thanks to these industry-specific functionalities.
Thirdly, ERP for the garment industry facilitates multi-currency and multi-language capabilities to support global operations. It makes it possible to manage international sales, procurement, and logistics effectively, allowing for smooth collaboration with suppliers and customers all over the world.
In addition, Expand smERP provides garment manufacturers with valuable insights into key performance indicators, sales trends, production efficiency, and inventory levels via real-time analytics and reporting. Businesses can now make decisions based on data and remain competitive in a market that is changing quickly as a result.
ERP for production is also well-known for its user-friendly interface, simple navigation, and customizable options. It is adaptable to various workflows and processes and can be tailored to each garment manufacturer's specific requirements.
Last but not least, the garment industry has used Expand smERP in many successful implementations. Its dependability, scalability, and capacity to drive growth and profitability are demonstrated by its numerous satisfied customers.
Frequently Asked Questions
What exactly is ERP in the clothing industry?
In the garment manufacturing industry, ERP, or Enterprise Resource Planning, is a software system that manages and integrates various business functions across departments. Real-time insights are provided, operations are streamlined, and efficiency is increased.
In what ways can ERP software benefit a clothing company?
Supply chain management, inventory control, production planning, cost analysis, quality management, and customer relationship management are all aided by garment manufacturing ERP software. It facilitates data-driven decision-making, enhances collaboration, and automates processes.
What is the garment industry's need for ERP?
In the garment industry, ERP addresses the difficulties posed by complex operations, numerous stakeholders, and market fluctuations. Processes are streamlined, collaboration is improved, data insights are provided in real-time, and scalability is supported by it.
Is ERP software appropriate for small-scale garment manufacturing companies?
ERP for the garment industry software can, indeed, be beneficial to small garment manufacturing businesses. It aids in reducing waste, increasing productivity, and streamlining procedures. ERP software enables small businesses to successfully compete in the market and achieve sustainable growth by automating processes and providing real-time insights.
Is it possible to modify ERP software to meet the particular requirements of a garment manufacturing company?
Yes, the majority of ERP systems for garment industry software solutions provide options for customizing the system to meet the particular requirements of a garment manufacturing company.
This makes it possible for businesses to incorporate the ERP system's unique processes, workflows, and industry-specific features, maximizing benefits and performance. Consult ERP providers to discuss customization options and select a solution that meets the company's particular requirements.
Conclusion
The garment industry has come to rely on the ERP for garment industry software for streamlined operations, effective production, and increased profitability. Garment manufacturers can quickly respond to market demands, improve resource utilization, and optimize their processes with the right ERP solution.
Take into account the best ERP software solutions discussed in this guide and set out on a journey that will lead you to greater success and efficiency in the garment industry.