Request a call back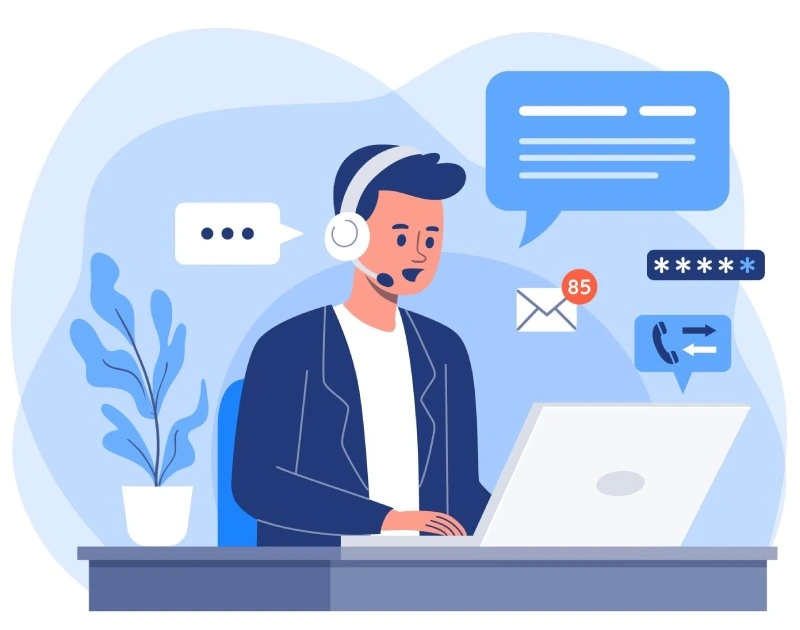 Thank you for your interest in Expand smERP. A product expert will call you within 48 hours, maybe sooner. If it is important please feel free to call Ritisha on +91 9007026542.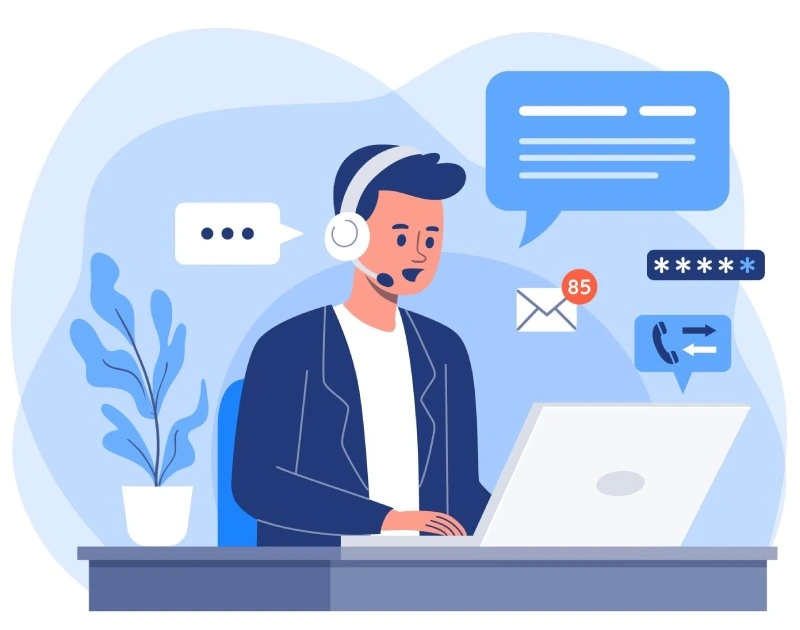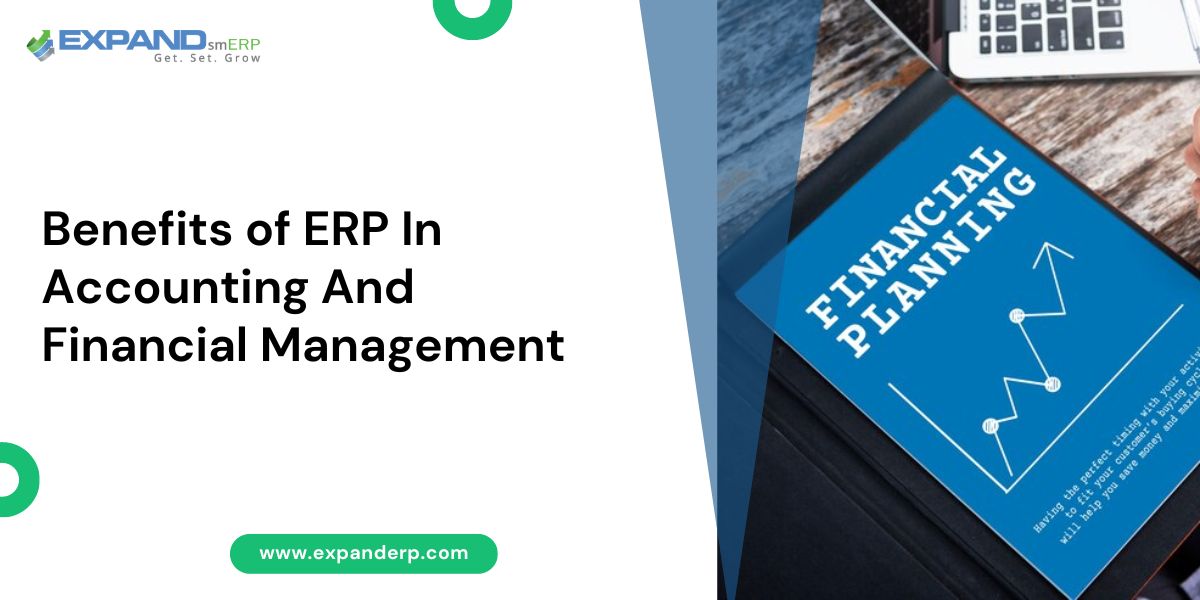 Key Benefits Of ERP In Financial Management System And Accounting
​
Enterprise Resource Planning (ERP) has evolved as a one-stop solution. For assessing accounting and financial management. Know the benefits of ERP system in accounting and financial modules in this blog.
Importance Of ERP In Financial Management And Accounting Module
In the era of ever-changing business paradigm. Managing financial data and accounting statements is the foremost priority. Are you struggling to handle your accounting financial statements in your organization? Worry no more, the ERP finance module should be your top choice. When it comes to managing financial data.
The ERP export management software not only streamlines financial procedures at one stop. But also, reduces the tendency of man-made errors with its automated process. We have the best ERP software in India, that can help you to accurate your workflow. If you are looking for something reliable, trustworthy, and accounting software. That manages finances of every level at your organization. Then, our ERP in financial management and accounting is the perfect option to opt for.
So, are you ready to make your business grow on a global scale? With the best real-time finance reporting risk management software? ERP module for financial information will help you to. Make better and more informed decisions based on accurate data. While eliminating financial errors that can hamper your business from growing further.
Read this blog to learn the key benefits of ERP software in Kolkata. Along with ERP in financial management and accounting procedures.
Recommended: 11 Benefits Of ERP in Multi-location Inventory Management
Key Features: Benefits Of ERP Finance Module For Accounting System
ERP system has a wide range of benefits. When it comes to managing financial transactions in your company. It is a powerhouse of comprehensive tools and features. That can make your financial reporting and asset management easier with one click.
Explore the benefits of ERP in financial management software for smooth-running business processes. Read on.
1) ERP Finance System For Efficient Revenue Management
Do you struggle to gather financial data from all your organization's departments? ERP financial management software is a unified platform. That allows you to access fixed asset management under one ERP solution.
So that, you can make financial decisions based on the complete financial reporting.
2) ERP Financial Management For Accounting Data Accuracy
Do you know how ERP in financial management plays a significant role? Your manual financial team can make mistakes. While accounting expense management and financial data entry. This is where the ERP financial management system comes to the rescue.
ERP software accounting standard mitigates the risk of man-made errors. Thus, providing you with accurate and timely data on credit management.
3) ERP For Financial Management Is Cost Effective
The best way to grow your business on a larger scale is to cut down extra costs within the organization. That is why, ERP in finance and accounting can reduce your costs by eliminating extra budget.
It ensures streamline financial management in one system software. Thus, saving your company's financial transactions. That you would have spent on getting various financial management tools and software. Not only that, the automated process also cuts labor costs. And makes financial regulations smoother.
4) Financial Management In ERP Enhances Decision Controlling
ERP financial module provides insights into accounting and finance ERP in no time. While taking care of providing correct information of the data. This can not only help you to make better financial decisions for your company. But also, provides valuable strategies to change your financial game. In the competitive business landscape.5) ERP In Financial Management Provides Enhanced Budgeting
Financial management ERP software solutions provide robust reporting. And budgeting details of accounting and financial data. Imagine getting email alerts for exceeded budgets or transaction approvals at every level. Doesn't that sound great?
Well, you can get all them along with detailed comparisons between your real budget. And your actual financial figures in our ERP software.
6) Effective Financial Management With Regulatory Compliance
Adhering to local and standard compliance rules and regulations. For financial processes is a must for all business owners. Failing to do so, can lead to heavy legal penalties and a distorted image in the business segment.
Our financial management ERP software works per regulatory compliance. Thus, providing timely financial ERP audits to grow your business.
7) ERP For Logical Credit Notes Management
The financial management ERP module. Helps in accessing credit notes across all business departments. You can get details of separate credit processes. For the quantity of materials, withstanding amount, and a lot more. It also gives you the freedom to restrict credit flow whenever you think it is important.
8) Financial Management Module In ERP Inventory Management
ERP financial system software is a single business management system. That gives you detailed financial forecasting of your organization's inventory levels. ERP inventory's shared management tools. Allow you to stock goods and reduce stockout errors or overstocking of materials. It also helps in reducing carrying inventory charges.
Isn't it like getting many benefits under one system software?
9) Consolidated Financial Data Improves Vendor-Supplier Relations
You can get an enhanced relationship with your inventory vendors. Through a full-fledged ERP solution. ERP in financial management tracks down vendor details. For a smooth flow of communication. Thus, eliminating the risk of miscommunication. And makes sure to provide you. With delivery timing, and financial costing charges of the vendors.
10) Financial Software For Customer Relationship Management
One of the top ap feature of the ERP software is that. It channels various businesses to maintain good client relationships. ERP's CRM programming encourages productive financial reporting. That you can pass on to your customers to maintain a healthy relationship.
It provides valuable knowledge on inventory stocks and restocking details. That can help you establish an ever-lasting relationship with your customers.
11) Cloud-Based Financial ERP System Is Scalable
You need to streamline your accounting practices. As your business shifts towards positive growth. Our financial and operational ERP system is scalable. And can be adjusted according to your business needs.
It not only manages posting security. But also has drill-down functionality for you to access.
12) Custom Platform With The Financial Security
Management across the ERP platform. With the financial module has a robust security system. It protects informative and financial data from unauthorized third parties. Thus, providing relief from data theft and information leakage to your competitors.
13) ERP Financial Software Has User Convenient Interface
The friendly interface of the ERP business systems. Enhances productivity at all levels of departments in the organization. The handy interface of the ERP software makes it easier for your employees to use it. So that, they can learn different financial proceedings in no time.
Read More: Top 13 Benefits Of ERP Software In Retail Industry | Expand smERP
Conclusion
You can get a multitude of benefits by incorporating ERP in financial management. To boost efficiency in your financial planning across your organization.
Learn more about ERP system software and its different uses on our website of Expand smERP.