Request a call back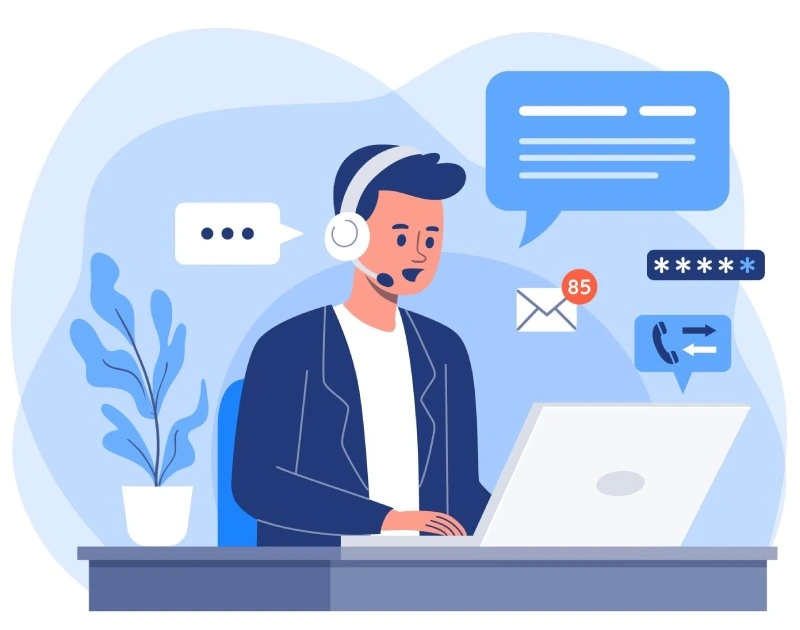 Thank you for your interest in Expand smERP. A product expert will call you within 48 hours, maybe sooner. If it is important please feel free to call Ritisha on +91 9007026542.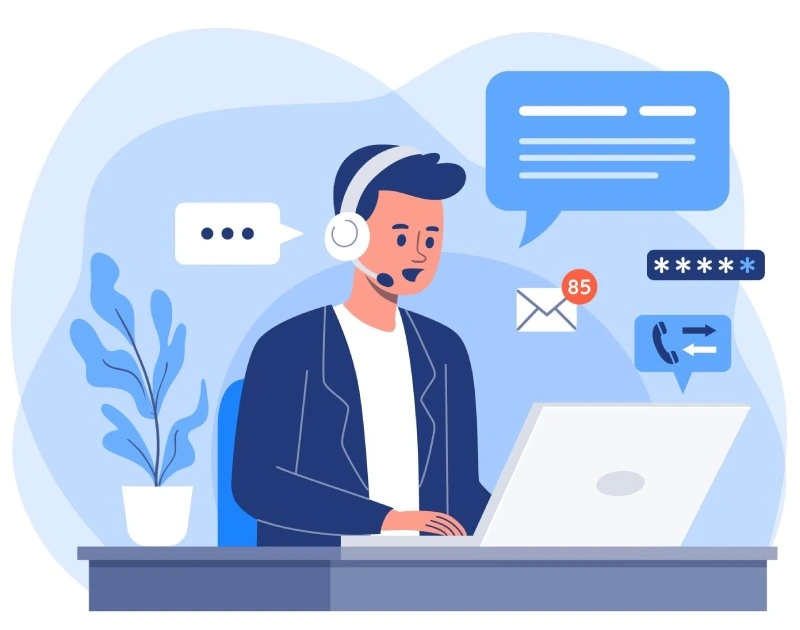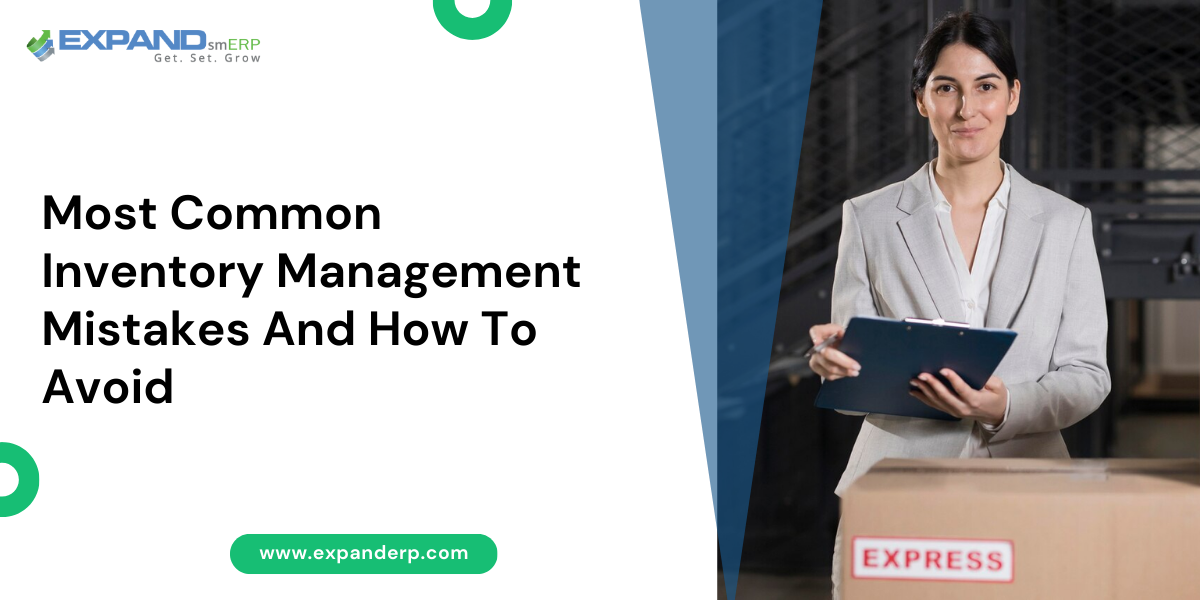 Common Inventory Management Mistakes That Can Cost Your Business: Steps To Avoid Management Errors
The profitability, scaling, and customer satisfaction are largely based. On efficient inventory management of an organization. Many companies suffer due to inefficient or inventory management mistakes. Learn how you can avoid heavy consequences. By maintaining a swift inventory system in this blog.
Why Is It Crucial To Avoid Common Inventory Management Mistakes?
Inventory or warehouse management of a business has a significant role. In improving the dynamics of a successful business channel. A well-planned inventory management can take a business to global heights. Whereas, poor shape or common inventory management mistakes. Can ruin the reputation of a business in the market landscape.
While talking about having good inventory management to increase productivity. I remember, having a friend who made severe inventory management mistakes. Of having too many supply chain systems. That led times to internal disruptions among different departments of his organization. Which ultimately led him to shut down his business. Due to the lack of monitoring inventory management mistakes.
Our best software solution is effective to manage your inventory seamlessly. We have the best ERP software in India that can help you deal with common inventory mistakes. Through its automation process. Business's are striving to put their foot forward. In the changing paragon of the business landscape. So, run along in the race for long lead times to make your business scale globally.
Want to know, how to optimize the inventory process? Optimize your inventory. By avoiding common inventory management errors with our top ERP software in Kolkata.
Recommended: Functions Of ERP In Warehouse Management: WMS And ERP Software
Forecast Common Inventory Mistakes To Avoid: Inventory Optimization
We have the most common mistakes yet typical ones that can hurt your successful business. Identify the usual inventory management mistakes that you are making. And, how to avoid them with the ERP software inventory management system here.
1) Overstock Or Stock Out In Inventory
Balancing between supplier chain stock is an important aspect. That you must not overlook while planning a profitable business. Having space for too many inventory products. Can tie up supply chain stocking and investment of capital. Whereas, stock-outs can lead to dissatisfaction of customers. That will result in poor customer retention.
Even the global brand 'Nike' couldn't escape falling prey. To supply chain issues during the Covid period. The company faced similar issues with overstocking of seasonal goods. The CFRO of Nike said they are trying to liquidate their inventory. With a fresh collection of products to manage best inventory practices.
To avoid such issues, our ERP software is the best solution. That can help you forecast demand with its automation process. While giving you a detailed picture of all the inventory levels. Thus, you can reorder optimal stocks as per the need.
2) Miscalculating Demand Of Warehouse Goods
One common mistake that almost every business makes at some moment. Is not forecasting the demand of their inventory goods. Checking stock coverage at intervals. is necessary to increase sales and to turn customers loyal to you.
Want to know steps to rectifying mistakes of miscalculating demand in the warehouse? Track your inventory tracking with ERP software's management strategy. This software gives valuable insight into market trends and previous data. That you can use while calculating the demand for products among your customers.
3) Poor Vendor Supplier Relationship
Are you facing problems while communicating with your suppliers? This is another common inventory management mistake. That can cause the downfall of your organization. Poor communication or lack of transparency among suppliers. Can result in distorted product delivery and quality problems.
Avoid this problem with ERP's channel concept automation program. It will help you get information about. Where your order is, when it will be delivered, or what order you need to restock.
4) Lack Of Automated System Tracking
Not having inventory management software can make it difficult to manage inventory. The human-made traditional tracking system is prone to errors. Thus, resulting in a lack of information, errors, and inaccurate reports.
This is where an automated inventory store. Inventory data at every stage through its swift automatic process. Thus, making your tracking experience swift.
5) Lack Of Analytical Reporting
Prioritizing or overlooking all items across the supply chain. Or inventory can drag you into great inventory problems. To avoid this, you need analytical reports that can show you. What do you need to add or deduct from your inventory levels?
Not only that, ERP analytical reporting also helps in making informed decisions. About what steps are necessary to be taken. To improve the profitability of your organization.
6) Seasonal Demand Analysis
Is your business not doing well during the seasonal times? Well, it is because you are lacking reports and numbers. Of what products do you need to reorder or stop ordering for the seasonal time? Another thing can be, not following current market trends of consumer behavior.
Misjudging seasonal demand can cause your business to suffer from overstocking or stockouts. Our ERP can help you give information about inventory, supply chain, and market trends. So that, you can understand the need of consumers in the seasonal time to get prepared for that.
7) Manual Errors In Data Entry
As we have already said, handling inventory manually can make your reports and data prone to errors. That can affect the final decision that you make.
Thus, centralize your inventory with inventory tools. That give you smooth automated data reporting. To make your work easier without errors or mistakes.
8) Ignoring The Importance Of Audits
Are you relying on the manual data of your inventory and ignoring the urgency of audits? It can lead your business to crash down in a short span of time. Regular audits are necessary to have transparency of what things need to be done, what the cost price of products in inventory is, or which supplier is taking what charges.
Ignoring this can lead to theft and disturbed business lines. ERP software is a central platform solution that gives you scope to look at various inventory reports from supply chain to financing. So that, you can take control of your business from anywhere.
9) Inaccurate Demand Reporting
Are you confused about the total footfall you are going to expect in the seasonal sale season? Well, then it is time for you to upgrade your demand reporting. Don't know how to do so? ERP inventory system can count approximate and accurate demand reports.
So that, you do not fall short of goods for your customers.
10) Lacking Safety Stocks In Inventory
Safety stocking is that aspect, which can help you deal with situations of heavy demand or sell. Having safety stocks in the inventory is a must, but you must calculate the difference between safety stockings and overstocking.
Inventory ERP can help you forecast the demand so that you can be prepared with an accurate number of safety stocks.
11) Poor Warehouse Or Inventory Layout
Not optimizing inventory or warehouse management can lead to heavy losses. It can disturb the functioning of many storage and warehouses.
Thus, optimize your inventory management with an automated process of integration that can help you make proper decisions about your inventory layouts.
12) Overlooking Technology
The main cause of poor inventory management is not paying attention to the latest business technologies. Automated technological software has inbuilt inventory management tools. That can help you with order management, overcoming inventory errors, and data management, and provides you with the best inventory management techniques.
So, are you ready to unleash the technological benefits today with us?
13) Poor Staff Training Management
Do you face problems while assigning your staff some inventory tasks? This can be because of their lack of knowledge in the given field. While incorporating an ERP software is easy. But you should also keep in mind, to train your staff properly with techniques of how to use and benefit from it.
Conduct training classes or workshops to provide a comprehensive guide to your staff on various automated inventory-level training.
Read More: The Ultimate Guide To Best ERP Software For Retail In India - Expand smERP
Conclusion
Run your business efficiently by ignoring these 13 common inventory management mistakes with our best ERP software solution.
You can also check out our ERP software solution for various industries on our website of Expand smERP.