Request a call back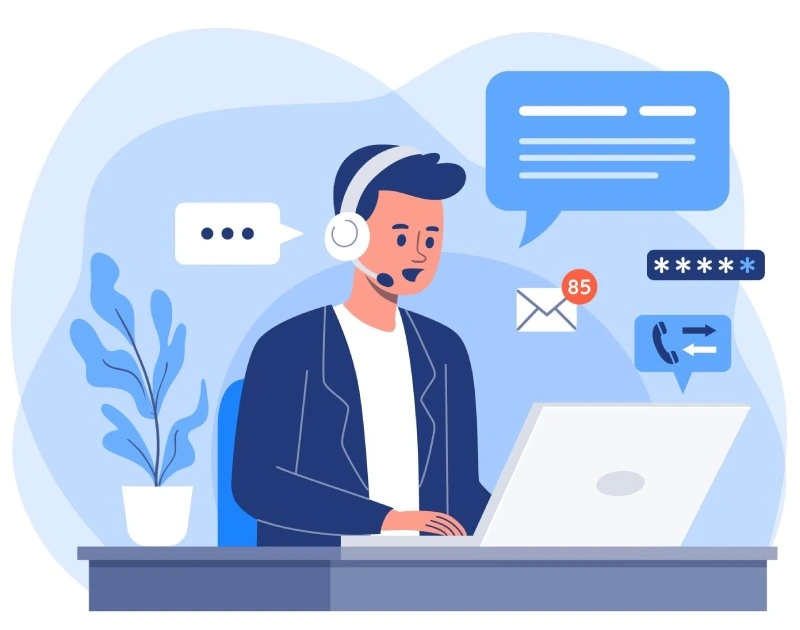 Thank you for your interest in Expand smERP. A product expert will call you within 48 hours, maybe sooner. If it is important please feel free to call Ritisha on +91 9007026542.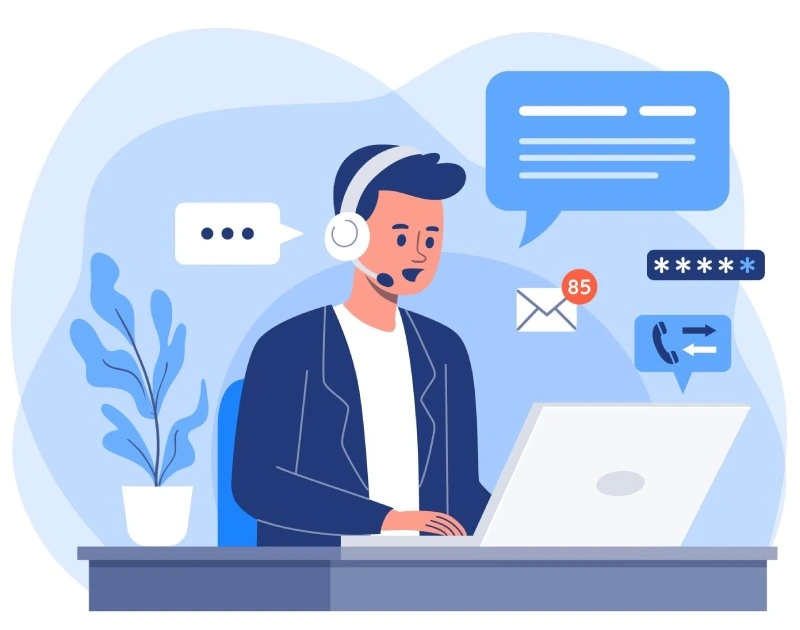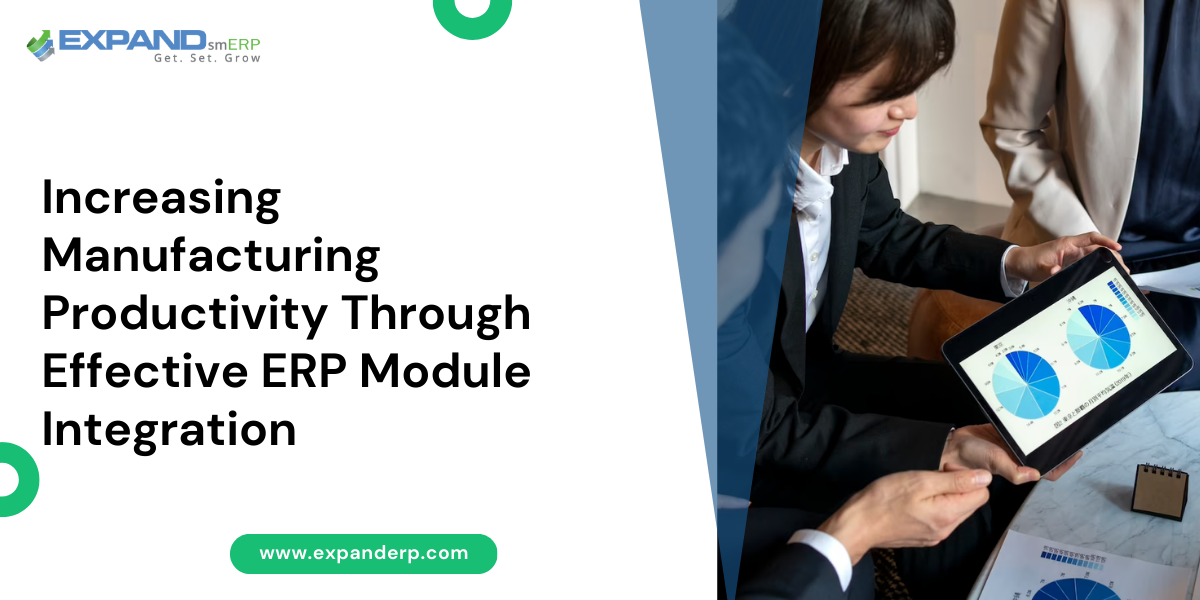 Increasing Manufacturing Productivity Through Effective ERP Module Integration
​Productivity is essential for maintaining competitiveness in the fast-growing manufacturing industry. The effective integration of manufacturing erp modules is a technique to increase productivity. These modules offer a complete set of tools that facilitate decision-making. It also increases efficiency, and streamline processes. In this blog post, we'll discuss how integrating erp for production can benefit manufacturers. So let's explore the possibility of increased manufacturing productivity.
​

What Is Manufacturing Module In Erp?

Let's first define ERP modules and their impact on manufacturing productivity. ERP modules are software programs created to perform particular tasks in an integrated ERP system. The best ERP software in India covers various aspects of manufacturing. It includes inventory management, production planning, supply chain management, and more. Each manufacturing module enables firms to customize their ERP system to meet their individual needs.

Must Read: 18 Success Factors For Erp Implementation In 2023
​

Benefits Of Manufacturing Erp Modules

ERP for manufacturing industry offers a wide range of advantages. Here are some key benefits –
Integrating ERP manufacturing modules ensures seamless departmental communication and collaboration.
Businesses can compile data from numerous sources into a single repository with the help of integrated ERP modules.
Automation of manual and routine tasks by ERP modules reduces human error and gives employees more time.
Businesses can get detailed insights into resource availability through integrated ERP modules.
See More: How Does ERP Help Improve Business Operations [2023]
​

Features Of Manufacturing Module In ERP
​

Management of Bills of Materials (BOM)

Businesses can develop and manage precise BOMs, which list the parts and quantities required for production.
Production Planning and Scheduling
​It takes into account things like resource availability, order priority, and delivery deadlines to make production schedules run as smoothly as possible.
​

Inventory Management:

​This function makes it easier to keep track of and manage inventory levels.
​

Quality Control:

Businesses can conduct inspections, and keep track of quality issues with the help of the quality control tools.
​

Reporting and Analytics:

​The manufacturing module provides analytical capabilities to produce insights for resource usage.

Recommended: Discover Top 18 Benefits of Cloud ERP System - Expand smERP
​

Some Important Manufacturing ERP Modules List
​

Inventory Control

​Inventory is often the most valuable asset for manufacturers, and they all have it. This manufacturing ERP software module ensures effective inventory management. Accurate inventory data enables businesses to cut carrying costs, avoid production delays. With accurate tracking, it becomes easy to locate materials and streamline their movement. This allows seamless inventory management in the production environment and improves operational efficiency.
​

Production Management

​Businesses can manage their manufacturing operations using the ERP production planning module. This manufacturing software module is designed to simplify and maximize many production-related tasks. This module enables businesses to have a centralized view of their production activities. It also improves collaboration and communication across various departments. Managers can use it to make informed decisions, and reach production goals as it delivers real-time data and insights on production activities.
Order Management
This module is also known as material management module in ERP which effectively manages and records customer orders. The best ERP system for manufacturing uses this data to swiftly alert you when client demand shifts. This functionality gives you the ability to efficiently plan or modify products to meet your client's changing needs. You can ensure that your production is in line with the needs of your customers by having real-time insights into their demands. This will enable you to supply the proper number of products at the right time.
Customer Relationship Management
All communications between your sales force and customers are recorded and organized using the CRM application. You can better understand your clients, their preferences, and their needs if you have access to this useful data. With this information, you can personalize your sales pitches to match their particular interests.
Purchasing And Supply Chain Management
This module covers tasks including choosing a supplier, negotiating agreements, making purchases, and maintaining inventory levels. The aim is to make sure that the right items are offered at the right times, in the right amounts, and at the right costs. Maintaining solid supplier connections, keeping an eye on and optimizing inventory levels, and coordinating logistics and transportation are all part of effective purchasing and supply chain management.
Sales Module
The sales and distribution module in ERP system is a tool that helps businesses manage their sales. This module is intended to simplify and automate several sales-related tasks. The tasks include developing and managing sales orders, monitoring inventory availability, producing invoicing, and managing client information. It supports companies in increasing customer happiness, improving sales efficiency.
Finance Management
Finance management can handle various financial tasks and processes in a comprehensive manner. It involves fundamental tasks including accounting, planning, financial reporting, managing the general ledger, and handling the accounts payable and receivable. Additionally, the module facilitates multi-currency transactions, enabling companies to efficiently conduct global operations. The finance management module enables firms to keep track of their financial transactions. It produces reliable financial statements with features like Journal, BRS (Bank Reconciliation Statement), Trial Balance, Profit Loss statement, and Credit Debit Notes. It also makes debtor control easier and guarantees that TDS regulations are handled effectively.
​

Business Intelligence

​In an ERP system, business intelligence refers to the capacity to collect and analyze real-time data from multiple ERP suite components. It provides valuable insights into crucial business information, allowing for informed decision-making. Users of BI can get consolidated reports at various levels and examine them in real-time on dynamic dashboards. BI gives consumers the ability to drill down to specific sales, inventory, and finance transactions.
​

Schemes And Offer Management

​

An ERP system's schemes and offer management enable firms to establish and oversee different promotional schemes in real time. These schemes can be based on quantity, value, specific items, or groups of items. The system offers easy-to-use tools for generating attractive deals and managing retail sales. With the help of this module, companies can plan and carry out marketing initiatives while also keeping an eye on how well they're working and how they affect sales.
​

Sum Up-

​Hopefully, you have understood the importance of integrating effective ERP modules. You can use the best erp for manufacturing to increase operational efficiency, and satisfy your clients requests. If you have further queries regarding ERP system for manufacturing company, feel free to connect with us.

​