Request a call back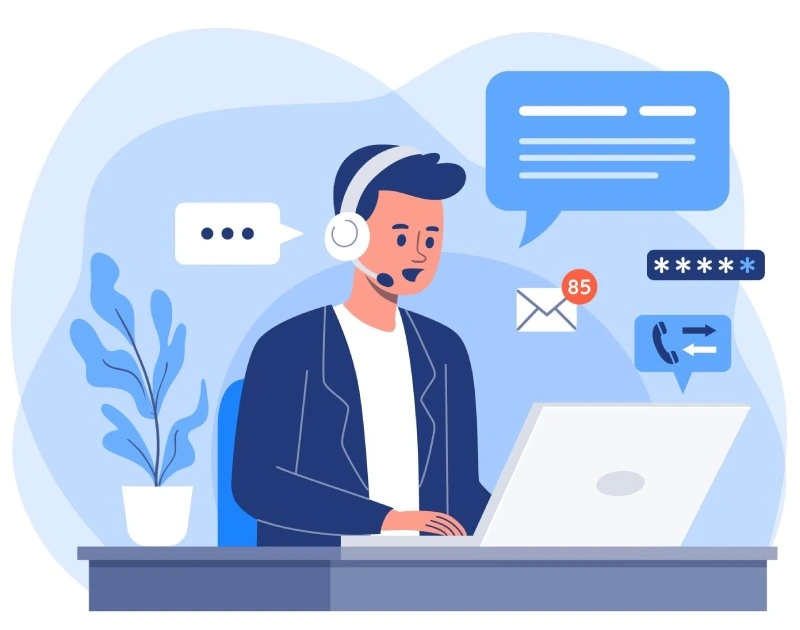 Thank you for your interest in Expand smERP. A product expert will call you within 48 hours, maybe sooner. If it is important please feel free to call Ritisha on +91 9007026542.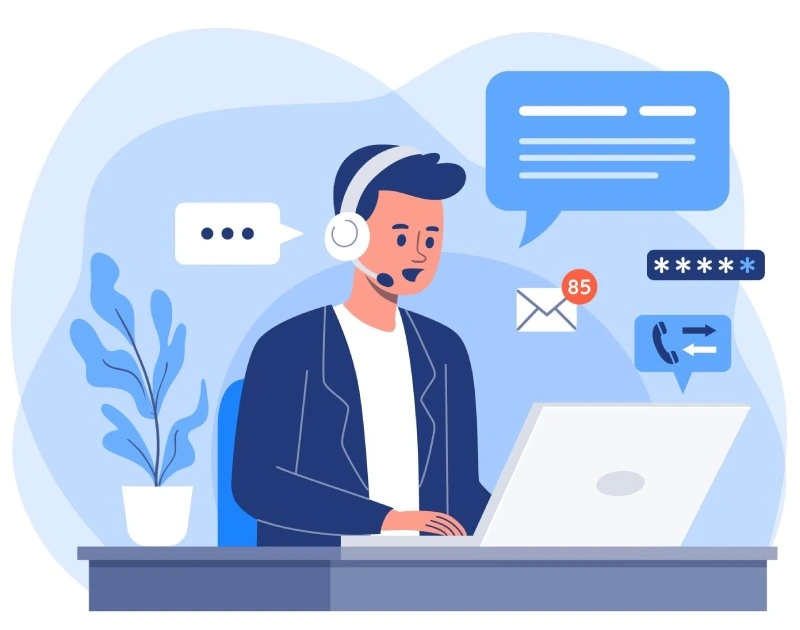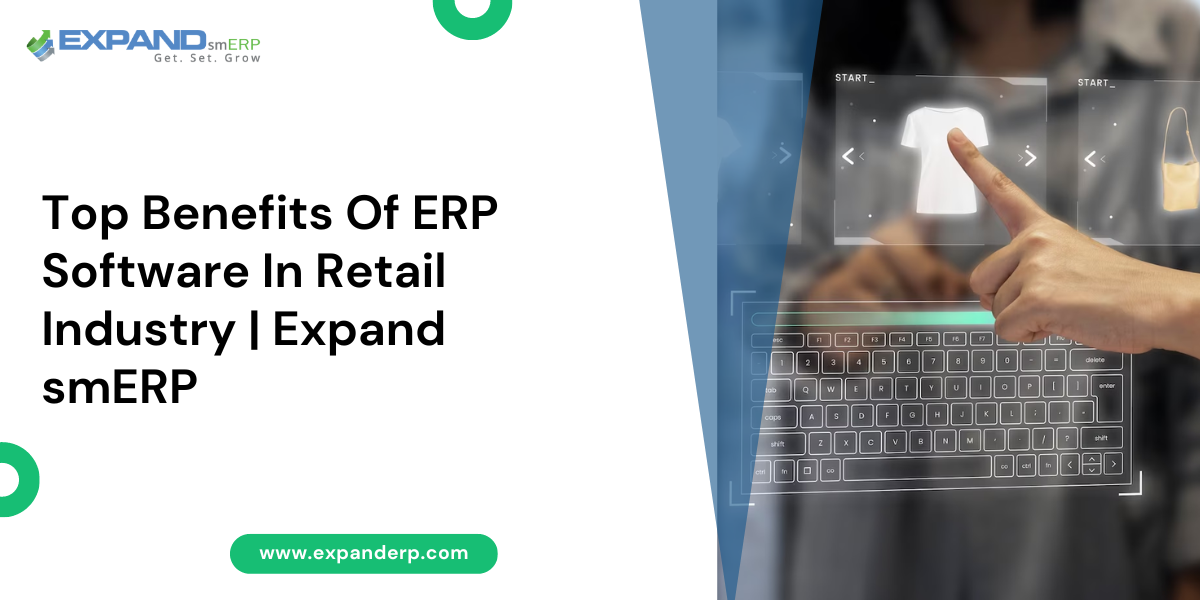 Top 13 Benefits Of ERP Software In Retail Industry | Expand smERP
A Brief Overview - Benefits Of ERP In Retail Industry
Staying ahead of the competition is essential in the fast-paced world of retail. As the retail sector is flourishing every single day, Retailers are facing many challenges. They found problems in serving customers efficiently to keep up with the latest trends.
That's where ERP plays a vital role. The best ERP for manufacturing industry, such as Expand smERP, provides significant benefits to retailers by integrating various operations into a single system.
In this blog, we'll explore the top 13 benefits of ERP in retail industry and why it's a game-changer for businesses of all sizes.

Why ERP Software Is Important For A Retail Business?
Retail businesses of all sizes face common difficulties such as inventory management, client retention, and effective supply chain operations. These are all important retail business processes.
Using good ERP software in Kolkata you can streamline your business process. ERP software acts as a unified system that addresses these challenges and other issues. It enables retailers to quickly and efficiently adjust to market developments.
Gain Insight On : The Ultimate Guide To Best ERP Software For Retail In India - Expand smERP
Role Of Retail ERP Software
Using the best ERP software in India is essential for simplifying retail operations. It serves as the backbone of every retail firm. ERP software smoothly integrates many services, departments, and data into one single platform.
This enables retailers to optimize their business activities while reducing operational costs. Using ERP software, retailers can improve their capacity to serve customers successfully. ERP offers real-time information and personalized experiences that increase customer satisfaction and loyalty.
Know More : 13 Key Benefits Of ERP In Supply Chain Management
Key Benefits Of ERP In Retail Industry
1.
Streamlined Inventory Management
Effective inventory management is essential for every retail store. A retail ERP system allows real-time visibility into inventory levels. It helps firms avoid stockouts and overstocking.
This results in improved demand forecasts, optimized stocking levels, and, eventually, higher profitability. Furthermore, the ERP software helps monitor the shelf life of perishable products. It sends timely alerts when these items approach their expiration dates.
This enables a retail outlet to take proactive measures like offering discounts on these products.
Discover The Benefits Of : Discover Top 18 Benefits of Cloud ERP System - Expand smERP
2.
Customer Management
We all know that serving customers perfectly is the most important part of any business. This applies to the retail industry too. An ERP solution improves your customer's satisfaction by learning about their preferences and purchasing history using CRM features provided by modern ERPs such as Expand smERP.
It also enables personalized marketing campaigns and enhanced sales prospects. Using these software systems you can focus better on customer management and retention.
3. E
fficient Supply Chain Management
A well-integrated supply chain is essential for delivering products to clients on time. Cloud retail software like Expand smERP allows retailers to optimize procurement. It can also reduce lead times, and increase delivery accuracy by providing visibility into the supply chain. This component of retail ERP software saves money and makes customers happy.
4. I
mproved Vendor Relations
Best ERP software for retail helps retailers negotiate better prices with suppliers. The system can also manage inventories more effectively, and develop stronger vendor relationships. Improved vendor connections frequently result in better transaction and product availability.
5.
Data-Driven Decision-Making
In today's data-driven world, a retail business requires real-time data in order to make informed decisions. ERP software delivers detailed analytics and reporting tools that allow merchants to make strategic decisions to drive profitability and growth.
An ERP for retail delivers real-time access to key metrics such as sales success, inventory levels, customer behavior patterns, and market trends by integrating all areas of your business operations into a centralized system.
6.
Scalability and Growth
Scalability and growth are important components in the success of any retail firm. As your company grows, it becomes crucial to have a central ERP in place that can handle increased operations seamlessly.
You can drive growth with robust ERP software without sacrificing efficiency or performance. Our software is cloud-based, so you can access as many resources as per your business needs. It can help you streamline all aspects of your business.

7.
Increased Employee Productivity
ERP software reduces manual tasks by automating and streamlining key retail processes. As a result, employees are able to concentrate on jobs that have more value and which boost productivity.
Retailers can manage inventory levels, track sales performance, and speed up order fulfillment using ExpandERP's user-friendly interface. This can help you in making employee management process easy.
8.
Financial Management and Compliance
This is one of the biggest advantages of ERP software in retail sector. The financial management feature of retail ERP software will help you in organizing and manage your budget. It handles budgets from multiple perspectives, according to the specific needs of department heads, project managers, and accountants involved in the process.
This means that each team member will have access to information relevant to their unique function and duties.
9.
Profit Tracking
Profit tracking is one of the most important benefits of using ERP for retail organizations. ERP offers a clear image of how effectively a business handles its financial resources.
It provides valuable insights into the company's overall financial health. The ERP for retail allows owners and managers to make informed decisions. It increases profitability and ensures long-term success.
10. E
-commerce data integration
Retailers who do not offer online shopping through their eCommerce stores risk falling behind their competition in this digital age. This is why modern ERP tools come integrated with E-commerce stores.
It provides a good solution for increasing overall efficiency. This can also reduce data duplication, prevent errors, and increase productivity.
11.
Multichannel Retailing
In the retail industry, it is usual for businesses to rely on various channels to ensure that their operations function smoothly. An ERP system acts as a major factor, bringing all of these retail channels together on a single platform.
This interface allows all departments to share information in real-time and removes the need for regular updates across teams. With this unified approach, employees can get the data whenever they need it. It boosts their efficient communication and increases overall business effectiveness.
12.
Point Of Sale System
Expand smERP integrates seamlessly with your POS system. It provides you with real-time sales data and inventory updates. This enables faster checkouts, reduces manual efforts in reviewing sales records, and ensures accurate stock availability information for both online and offline channels.
Conclusion –
ERP software has transformed the retail industry. It enables businesses to improve customer experiences, streamline operations, and make data-driven decisions.
ERP may help you stay competitive and adapt to the ever-changing retail industry, whether you're a small business or a huge retail chain. Invest in Expand smERP software now to see your retail business prosper in the digital era!