Request a call back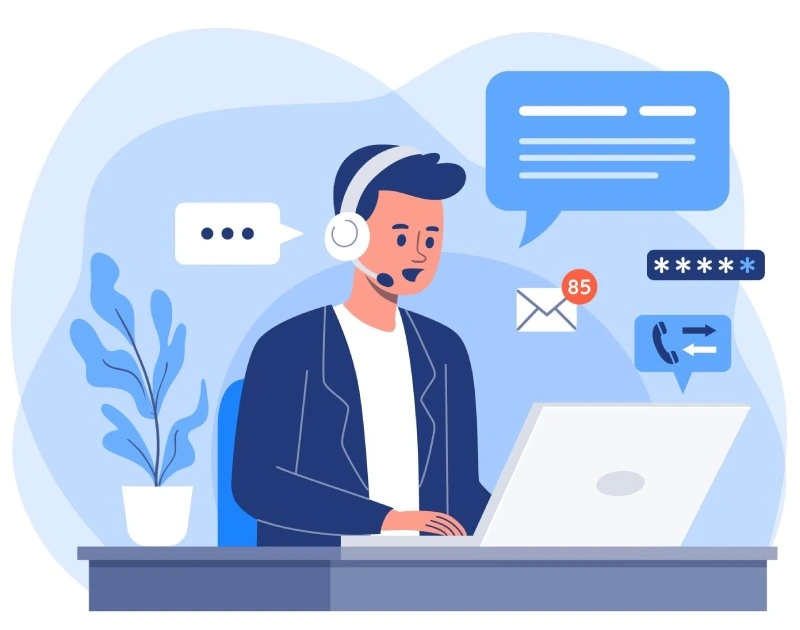 Thank you for your interest in Expand smERP. A product expert will call you within 48 hours, maybe sooner. If it is important please feel free to call Ritisha on +91 9007026542.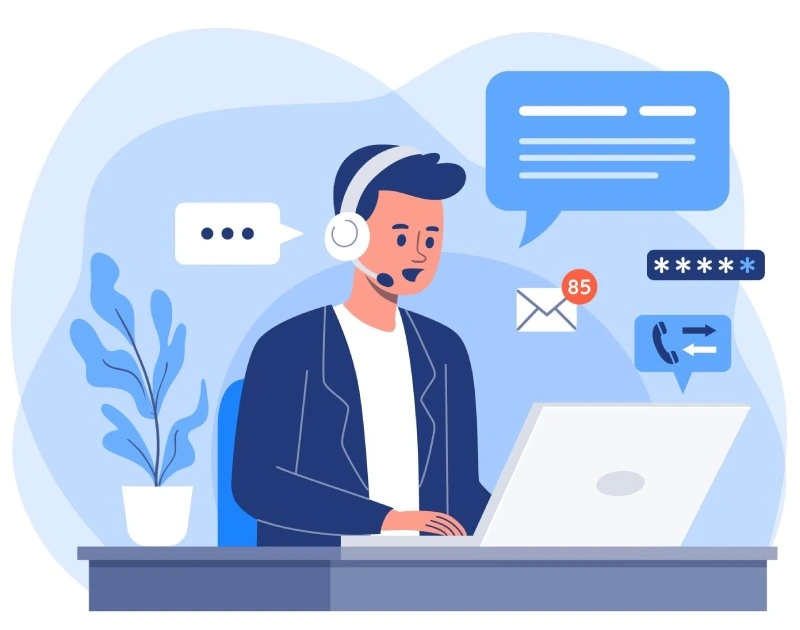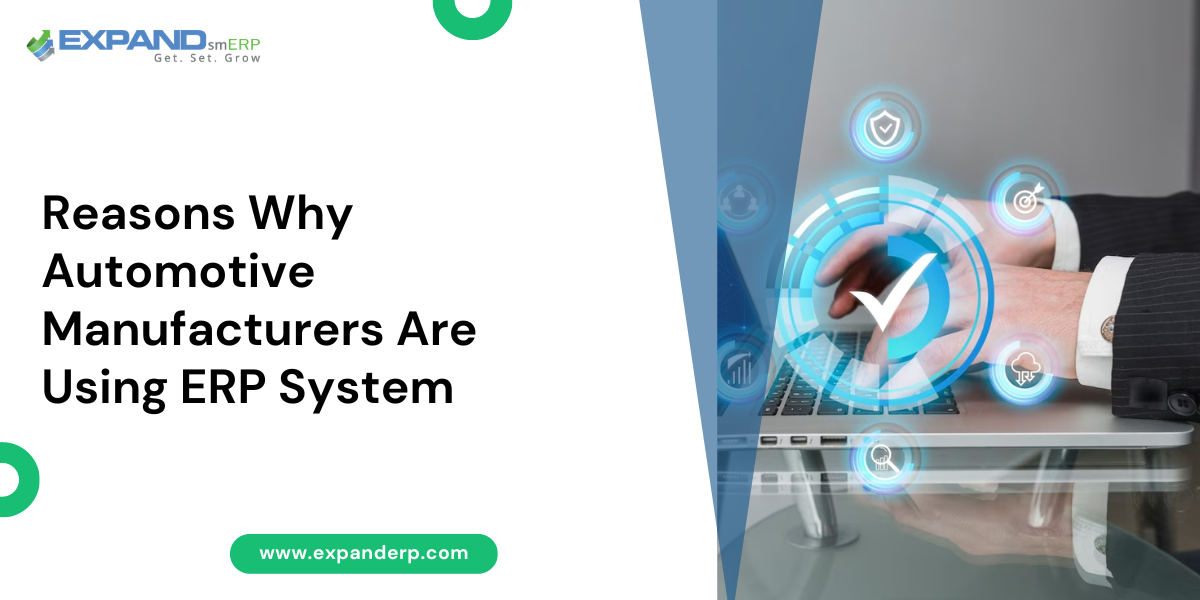 11 Reasons Why Automotive Manufacturers Are Using ERP Systems
Introduction
In today's business world, automotive manufacturers always want to make their work smoother and be better than others. This article talks about 11 reasons why automotive manufacturers use ERP systems and how it has changed the car industry.
Before beginning, we request you to check out our portal expanderp.com. We're the best providers of ERP software in Kolkata and have been recognized by many renowned names in the industry. So if you're in search of the best ERP software in India, we've got you covered! Now, let's delve into the topic.
Usage of Export Management Software has transformed the automotive manufacturing industry. ERP for manufacturing industry offers a wide range of benefits to automotive manufacturers.
11 Reasons Why Automotive Manufacturers Are Using ERP Systems
1. Enhanced Supply Chain Management
One of the first reasons why automotive manufacturers are using ERP systems is to enhance their supply chain management.
With ERP software, manufacturers can automate and streamline their ownership, inventory management, and vendor management processes.
This ensures that the proper parts and materials are always available when needed. It also reduces production downtime and eliminates expensive delays.
Gain More Knowledge On: A Comprehensive Guide On Erp Software Inventory Management System
2. Improved Production Arrangement
ERP provides automotive manufacturers with real-time data and insights into their production processes.
This permits manufacturers to optimize their production planning, scheduling, and resource allocation.
When companies have the right data and can predict things well, they can make less mistakes in manufacturing. It helps them keep the right amount of stuff, and deliver their products to customers more quickly.
Discover The Benefits Of : 13 Key Benefits Of ERP In Supply Chain Management
3. Efficient Resource Management
Automotive manufacturers deal with complicated processes that involve a variety of resources such as raw materials, machinery, and labor.
ERP enables them to manage and distribute resources more efficiently to meet demand and availability.
By optimizing resource utilization, manufacturers can reduce costs, improve productivity, and increase profitability.
Want To Increase Manufacturing Productivity : Increasing Manufacturing Productivity Through Effective ERP Module Integration
4. Streamlined Internal Control
Quality control is crucial within the automotive manufacturing industry. As even minor defects can cause safety hazards and product cancellations. This is one of the main reasons Why automotive manufacturers are using ERP systems.

The best ERP software lets manufacturers create strong rules inside their company. It does this by collecting up-to-the-minute info about how good their products are, the results of checks, and what customers think.
This data helps identify and address quality issues early. It further ensures that only high-quality products reach the market.
5. Improved Customer Relationship Management
CRM modules help automobile manufacturers in handling interactions with customers and building strong ties with them.
By centralizing customer data, manufacturers can provide personalized and timely customer service, track customer orders, and address any issues or concerns promptly. This results in increased customer satisfaction, loyalty, and ultimately, repeat business.
6. Enhanced Monetary Planning
ERP for the manufacturing industries offers robust financial management capabilities. It help automotive manufacturers streamline their financial processes.
From accounts payable and receivable to ledger management and financial reporting, ERP software provides manufacturers with accurate and real-time financial data.
This enables manufacturers to effectively manage budgets, track costs, and optimize their financial performance.

7. Obedience and Administrative Adherence
The automotive industry is subject to numerous regulations and compliance requirements.
Transport Management Software comes equipped with features that help manufacturers adhere to those regulations and maintain compliance.
From regulatory reporting to visible capabilities, ERP systems enable manufacturers to satisfy industry standards and avoid costly penalties and regulatory issues.
8. Improved Collaboration And Communication
Effective communication and collaboration are essential for efficient operations within the automotive manufacturing industry.
ERP for the manufacturing industries in India, especially Kolkata, facilitates seamless communication and collaboration across departments and teams. It ensures that everybody has access to real-time information.
With our ERP software in Kolkata, manufacturers can unify their operations and enable efficient decision-making at the least levels of the organization.
You can always check out https://www.expanderp.com/ to know more about us!
9. Real-Time Analytics and Reporting
ERP systems provide automotive manufacturers with powerful analytics and reporting capabilities.
By analyzing real-time data, manufacturers can gain valuable insights into their operations. They can also identify trends, and make informed business decisions.
From production efficiency to sales trends and customer behavior, ERP systems enable manufacturers to stay competitive and make data-driven improvements.
10.Scalability And Adaptability
As the automotive industry evolves and expands, automotive manufacturers need systems which will scale and adapt to their changing needs.
The ERP software offers scalability and adaptability. It allows manufacturers to feature new components, functionalities, and users as their business grows.
Whether expanding operations or diversifying product lines, ERP software can accommodate the changing needs of automotive manufacturers.
11. Competitive Advantage
Ultimately, the adoption of ERP systems has given automotive manufacturers a definite competitive advantage.
By streamlining processes, reducing costs, and improving efficiency, ERP software helps manufacturers gain a competitive edge in the market.
It allows manufacturers to deliver high-quality products faster. It also helps meet customer demands, and stay energetic and sprightful in an ever-changing industry.
Conclusion
In conclusion, there are numerous reasons why automotive manufacturers Are using ERP systems in India. ERP systems became an important tool for them.
Whether it's managing the availability of supply chains, optimizing production planning, improving customer relationships, or ensuring regulatory compliance, ERP software has revolutionized the way automotive manufacturers operate.
To remain ahead within the highly competitive automotive industry, manufacturers must embrace ERP technology and leverage its benefits.
By doing so, they will drive efficiency, reduce costs, and achieve sustainable growth in today's dynamic market landscape.