Request a call back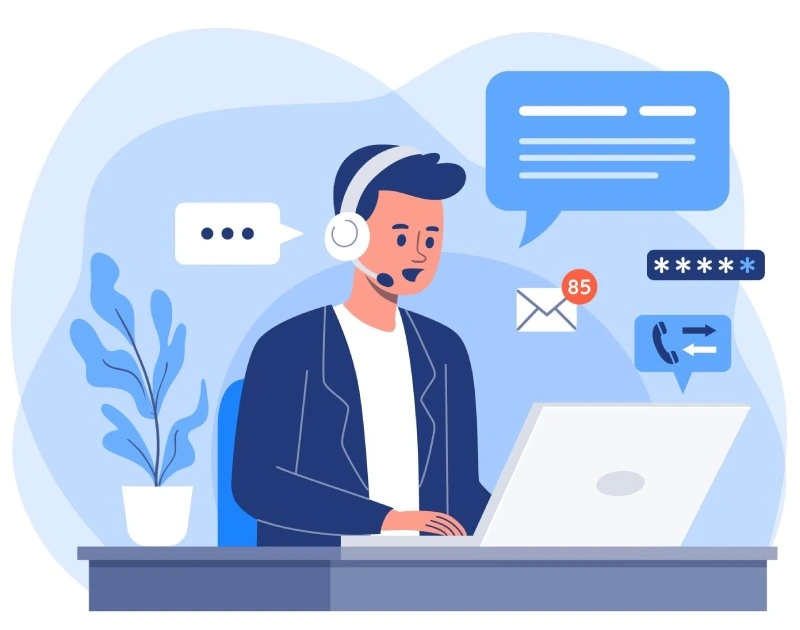 Thank you for your interest in Expand smERP. A product expert will call you within 48 hours, maybe sooner. If it is important please feel free to call Ritisha on +91 9007026542.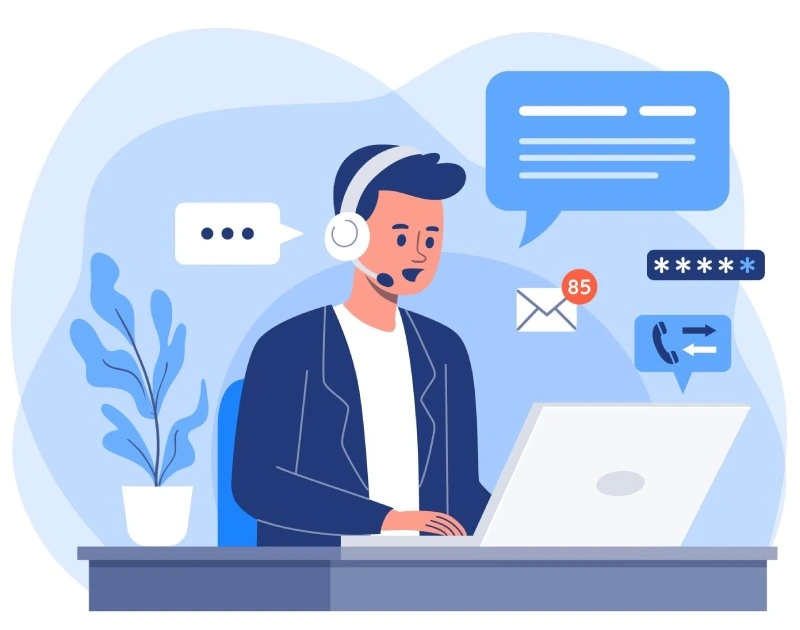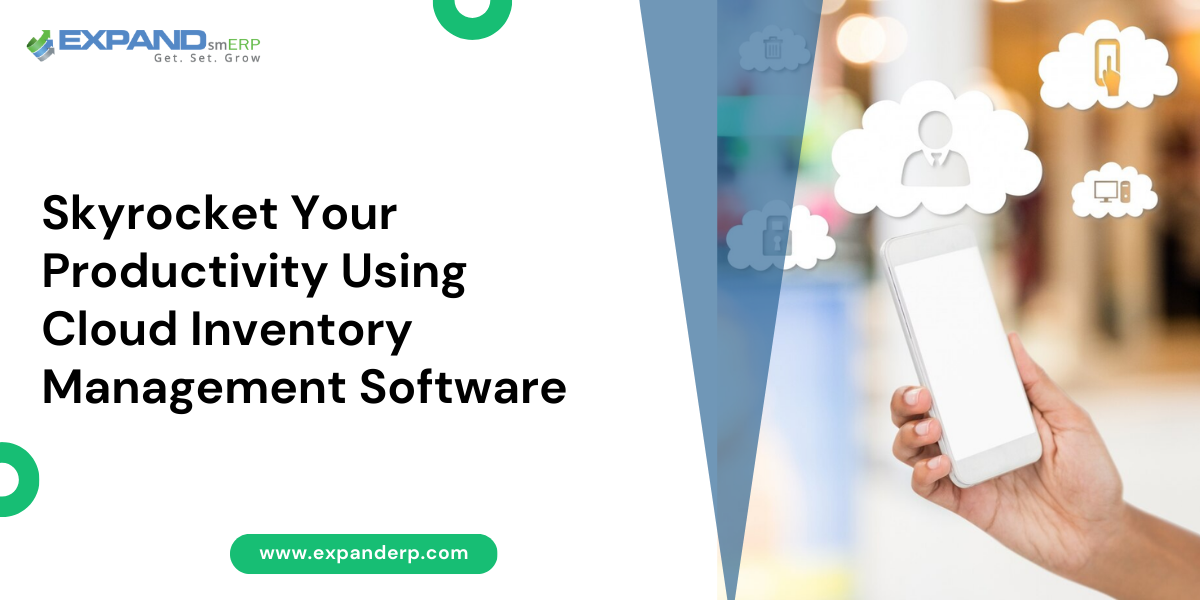 Skyrocket Your Productivity Using Cloud Inventory Management Software
Gain insight into our cloud-based inventory management software to revolutionize your productivity! As this article reveals 11+ strategic benefits that lead to high productivity and take your business to new heights.
Today we're going to talk about cloud inventory management solution, which have the potential to completely transform the way you conduct business. No fluff, no fancy words, just a straightforward look into how this technology can make your business easier. So, what exactly is Cloud inventory management software? It's similar to having all of your business tools and data kept online. You don't need to rely on local servers or deal with the challenges of managing everything in-house. You can access your inventory data from anywhere, at any time using the best ERP software in India.
Our Cloud ERP solution streamlines everything from finance to inventory management, allowing you to focus on your core business activities. Curious to know how this could benefit your company? Continue reading this guide as we will explore the benefits of cloud inventory management software and how our ERP software in Kolkata makes business management more efficient in the digital age.
Learn More : What Is The Difference Between MRP And ERP System? | ERP VS MRP
What Is Meant By Cloud-Based Inventory Management?
Keeping track of inventory levels is a major concern for distributors, but it does not have to be a constant issue. Stock-counting errors can have a direct impact on how much money you make from selling products. However, switching to cloud-based inventory management for real-time monitoring and reporting can protect your company from confusing data that hampers the operational workflows of business. A cloud-based inventory management system not only allows you to see what's in stock straight now, but it also ensures that you can always see what's going on in your entire supply chain.
Using the finest ERP software inventory management solution can pave the way for success. This powerful cloud-based software acts as a virtual space on the internet to store large amounts of your business data. The best part about this inventory solution is you can access the inventory and stock data anytime with the help of internet connectivity and a smart device.
Know How To Increase Productivity : Increasing Manufacturing Productivity Through Effective ERP Module Integration
Benefits Of Cloud Inventory Management Software
1. Real-Time Tracking
Using a cloud inventory management software, you can easily gain immediate insights into your inventory status. Track inventory movements and changes as they occur to ensure you have the most up-to-date information for informed decision-making and proactive management.
2. Easy Monitoring
The user-friendly interface of our cloud inventory solution makes inventory management much easier. Navigate through easy interfaces with ease as it offers a clear picture of your stock levels, transactions, and important key metrics. Its streamlined supervision ensures that your team can manage inventory effortlessly.
Identify These Vital Signs To Grow Your Business : Signs Your Company Needs an ERP - Expand SmERP
3. Accuracy
The use of cloud inventory software reduces the risk of human mistakes by automating important tasks. It eliminates the possibility of errors associated with manual data entry. Each team member can access real-time information using our cloud-based application. This real-time data flow makes sure that every user is working on the latest information. Moreover, it reduces the chances of duplications, missing orders, or inaccuracies.
4. Cloud Security
Trusted cloud inventory management companies like Expand ERP prioritize security by providing complete solutions that include top-notch security features like firewalls, data encryption, multi-factor authentication, and virus detection. This is especially important when you deal with sensitive consumer data, such as credit card information from online purchases. With strong security features, you can easily protect sensitive data from cyber threats and unauthorized access.
5. Smooth Workflows
Implementing a cloud-based inventory supports smooth workflows by allowing your team to effortlessly collaborate and access real-time information from any device. Each task is optimized through automated processes and user-friendly interfaces which reduces manual work. The scalability of cloud-based tools enables businesses to grow without disturbing their workflow.
6. Instant Insights
Now this is one of the biggest benefits of cloud inventory management software. Using cloud software can help you get instant insights into real-time analytics, data visualization, and configurable reports. This can help businesses to access vital information in a short time so that they can make quick decisions.
7. Supply Chain Visibility
While maintaining inventory is essential, achieving profitable product distribution is also important. Maintaining a positive inventory turnover needs regular stock replacement. The traditional inventory tracking process is time-consuming, but a cloud-based management process makes procurement operations easier. This automation improves your supply chain management by reducing administrative tasks.
8. User-Friendly
Expand ERP's cloud computing software stands out for its user-friendly design, which includes easy interfaces that are accessible on a variety of devices. This ease of use minimizes the learning curve and helps you explore its important features easily. This feature can greatly benefit your business. As you can introduce it to your staff who are not well-acquainted with these kinds of data tools.
9. Maximum Potential
The best cloud inventory management software increases your business potential by providing scalability, continuous improvement, worldwide accessibility, and customization. Scalability allows for easy business expansion, while regular upgrades provide access to the most recent features. Likewise, global accessibility allows inventory management in every inventory location, and customization tailors the software to your specific needs.
10. Save Time and Money
Most cloud management systems are simple to set up. It requires little technical knowledge and eliminates the need for specialist IT personnel. While a subscription-based plan may appear to be more expensive at first, cloud-based solutions prove to be more cost-effective for you in the long term than operating in-house servers. The time saved by automation contributes directly to your bottom line by reducing manual labor and the risk of human errors that might disrupt operations.
11. Automated Processes
Cloud inventory management automated techniques manage your inventory and streamline all the tasks ranging from real-time data updates to order processing. This reduces your manual labor, and errors, and increases overall efficiency. Thus, it allows you to concentrate on strategic operations rather than daily tasks.
12. Integrations with Other Software and Apps
This is the most important benefit of cloud-based inventory management. Cloud inventory management excels at integrating with a wide range of software and apps. Its interface enables data synchronization and promotes improved collaboration. Integrations increase the usefulness of the inventory management system while reducing its overall efficiency.
Grow Your Business With Best Cloud-Based Inventory Management System
In today's competitive business environment, efficiency is important to stay ahead of the competition. When compared to traditional inventory management systems, automated inventory management improves your inventory performance and reduces operational expenses. Automation lets your employees focus on strategic tasks, and the cloud-hosted data allows flexibility and productivity on any device, from anywhere.
The cloud-based order management helps you to focus on what matters most— your business growth. So, if you're ready to improve your inventory management, it is the best time to make the change and take your business to the next level.